Atlanta riots erupt downtown amid 'Cop City' backlash
Rioters in Atlanta set off fireworks and threw rocks at the Atlanta Police Foundation Saturday night, according to FOX 5 Atlanta.
The incident comes after an activist, Manuel Esteban Paez Teran, 26, was killed by police after he allegedly refused authorities' requests on Wednesday and allegedly fired a gun at state troopers at the Atlanta Public Safety training center.
"An individual shot and killed a Georgia State Patrol Trooper without warning," Michael Register told reporters with the Georgia Bureau of Investigations earlier this week. "Other law enforcement personnel returned fire in self-defense and evacuated the soldier to a safe area. The person who fired at law enforcement officers and shot the soldier was killed in the shootout.
Teran was an activist who opposed the development of the City of Atlanta's Public Safety Training Center, and fellow activists pledged to protest the facility and police after his death.
The protest started peacefully on Saturday and degenerated into chaos, according to FOX 5.
ATLANTA: DEMONSTRERS CALL FOR 'VOLENCE' AGAINST POLICE AFTER SHOOTING KILLS 1 DEATH AND AN WOUNDED Officer
"As long as the state continues to respect peaceful protest, acts of violence against persons or property will not be tolerated. Those who commit such unlawful acts will be arrested and prosecuted," Governor Brian Kemp said Saturday. .
Photos show activists reportedly set fire to an Atlanta Police Department vehicle in addition to targeting the Atlanta Police Foundation building.
"Atlanta Police Officers Responded to a Group That Destroyed Property at Multiple Locations Along Peachtree [Street]Atlanta police said in a statement Saturday, according to Fox 5. Multiple arrests were made at the time and order was restored to the downtown area. It is still an active and ongoing investigation and we are unable to provide details on the number of arrests or damaged property at this time."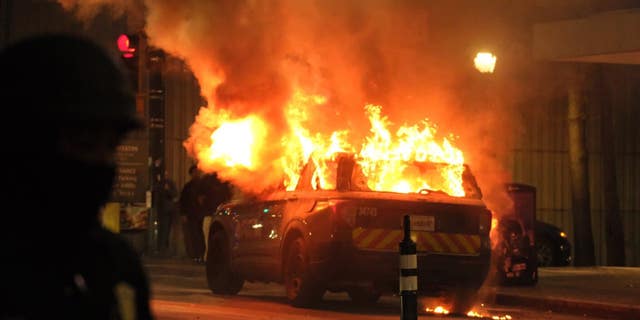 In recent days, activists had camped out at a planned 85-acre facility known as "Cop City" to protest the planned training facility. When Teran was shot and killed after authorities attempted to force protesters from the site on Wednesday, they pledged to continue their protests.
GEORGIA STATE TROOPER PLATED BY DEMONSTRATOR AT 'COP CITY' NEAR ATLANTA
A total of seven people were arrested on Wednesday and charged with domestic terrorism.
The Scenes from the Atlanta Forest Twitter account called for a "Night of Rage" to "carry out mutual violence against police and their allies," according to a post.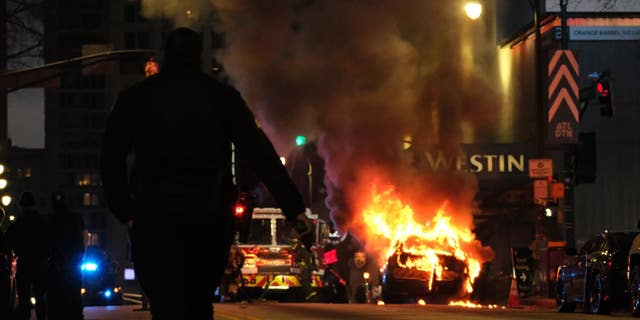 "Consider this a call for mutual violence against the police and their allies. On Friday, January 20, wherever you are, you are invited to join a night of rage to honor the memory of our fallen comrade," the group wrote on Twitter, apparently in violation of the platform's terms and conditions.
TEENAGERS IN ATLANTA DEAD AFTER SOCIAL MEDIA ARGUMENTS LEAD TO SHOOTING: POLICE
CLICK TO GET THE FOX NEWS APP
This is the latest news and will be updated.
Not all news on the site reflects the site's point of view, but we automatically transmit and translate this news through programmatic technology on the site and not from a human editor.