Galre margin, Pholiote margin, Galerina marginata
It resembles the Pholiota in its changing taste and the deadly toxicity of the Amanita Phalloide: the Galère marginée, Galerina marginatais a fungus that poses a real danger to distracted mycologists.
Botanicals
N. scientific Galerina marginata
Synonyms Agaricus marginata, Galera marginata, Pholiota marginata
Family Cortinariaces
A hat Reddish-brown ochre, viscous, hemispherical then slightly spreading, 2 to 6 cm high
Hymenium limes
Spores spore brun-roux
A circle brown, thin, disappears with age
Foot cream, gray at base, straight or curved, up to 7 cm
President jauntre ochrace
Come back absent
Smell sweet
Habitat and uses
Distribution France, Europe
Periodtu autumn
A habitatforest, on logs and debris of dead wood of conifers and sometimes hardwoods
Possible confusionKuehneromyces mutabilis, Pholiota nameko, Laccaria laccata, Hypholoma fasciculare, Galerina autumnalis
Toxicityfatal
Culinary interestnothing
Usesnot rfrencs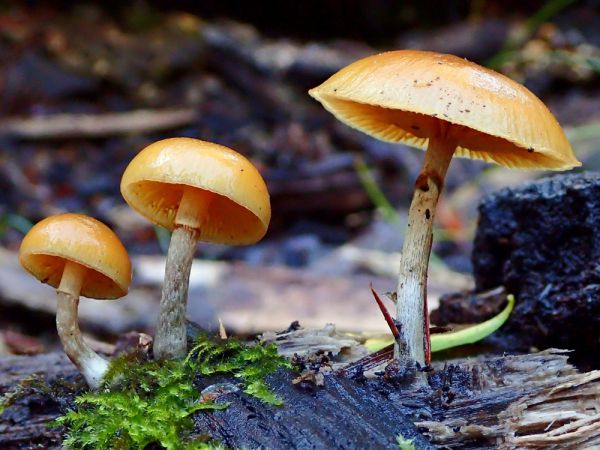 Lookalike in taste Changing Pholiote and with the lethal toxicity of Amanita Phalloid : the Marginal Kitchen, Galerina marginata, presents a real danger to distracted mycologists. This basidiomycetes from a family Cortinariaceae, common, deserves to be known to abandon it better.
Description of the Marginal Kitchen
The cap of the Galère marginée measures between 2 and 6 cm in diameter, maintains a hemispherical shape for a long time and then spreads slightly. Viscous in a humid climate, its color varies according to the level of humidity. Often reddish brown, it takes on ochraceous hues during the dry period. More clearly, the striated margin is finely curved in young subjects. The blades, thin and tight, have colors that vary from cream to ochraceous then reddish brown. The circle, narrow and thin, sometimes disappears. Like the hat, it has russet brown colors. On this ring may remain remains of white veils. The foot, which measures a maximum of 7 cm, is straight or curved, depending on its ink in the substrate. With a color for the cap, it takes on a gray or even black hue under the ring, where it is more fibrous. Its fine flesh is ochraceous, its smell and taste are of baking.
Determination of Galerina marginata
Some confusion between edible species and Galerina marginata it can be very dangerous because of the toxicity of it species. With that Kuehneromyces mutabilisthe Changing Pholiote, a popular edible species, closely resembles the Galère marginée and often grows in dense clumps on hardwood stems. The same applies to Pholiota nameko but that his foot does not present a gray color.
Confusion is also likely with Lacquer with lacquerthe Lacquered Clitocybe they are also edible, but never develop on wood. Hypholoma fasciculareTufted Hypholomata, toxic, has a sulfur yellow cap and brown in the center but does not present a ring. in the end, Galerina autumnalisthe Kcyera of autumnalso toxic, it only develops on deciduous trees.
living environment
The Galère Marginat grows on logs, branches and debris ligneous Of wood conifers and sometimes on hardwoods. It is common but solitary species which rarely grows in groups, is found from summer to autumn.
Toxicity or culinary interest
Galerina marginata still a little afraid and even before considered to be eaten, on the contrary it turns out to be a poisonous or even deadly species in some cases. It contains amanitins, toxins present in Amanita phalloides. The first symptoms of poisoning appear only after 12 to 48 hours. The affected patient is caught with vomiting and diarrhea then the liver is reached, the intoxication can extend to the kidneys.
A different species
a gallery
Kitchens develop in places that can be very different from one species to another:
Galerina sphagnum : Marsh kitchen, brown to yellowish cap, grows in swamps and sphagnum bogs
Galerina prepared : Dwarf heather, fawn hat ocher to cream, grows on mossy, acidic lawns
Galerina hemansii : creamy brown cap, grows mainly on dead willow or naln wood
Galerina ampullaceocystis : Cup with lageniform cystidia, orange-brown cap, grows on dead wood debris of conifers but also hardwood
Attention: The information, photos and indications presented on this site are published for informational purposes and should in no way replace the advice of a professional mycologist for the identification of fungi. Only proper training or confirmation by a knowledgeable mycologist can enable you to reliably identify a fungus. If in doubt, refrain from consuming mushrooms! The site therefore cannot be held responsible in case of poisoning from the mushrooms present.
---
Source: Au Jardin, conseils en jardinage from www.aujardin.info.
*The article was translated based on the content of Au Jardin, conseils en jardinage from www.aujardin.info. If there is any problem regarding the content, copyright, please leave a report under the article. We try to process as quickly as possible to protect copyright. Thank you very much!
*We just want readers to access information more quickly and easily with other multilingual content, instead of information only available in a certain language.
* ? ? We always respect the copyright of the author's content and always include the original link to the source article. If the author disagrees, leave the report under the article, the article will be edited or deleted at the request of the author. Thank you very much! Best regards!
---