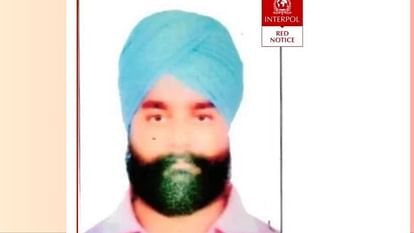 Red corner notice issued against Karanvir Singh
– Photo: ANI
Expansion
Now Interpol has also started action against Khalistani terrorists. Red Corner Notice has been issued against terrorist Karanvir Singh hiding in Pakistan. According to sources, he is close to terrorists Wadhwa Singh and Harvinder Singh hiding in Pakistan. Works only on his instructions. Besides, his role remains important in anti-India activities.
He is considered the right hand of both the terrorists. According to the information, Karanveer is originally a resident of Kapurthala. There are many charges against him including criminal conspiracy, murder, raising money for terrorist activities, Arms Act, being a member of a terrorist gang organization. Remember that Red Corner Notice is issued by Interpol.
195 countries from all over the world are its members. When any criminal goes to other countries after committing a crime. So Red Corner Notice alerts police around the world about such criminals. This is not an international arrest warrant. A criminal caught through a Red Corner Notice is sent to the country where he has committed the crime.
NIA raids 48 locations of people associated with Landa hiding in Canada
The action against Khalistani terrorists by National Investigation Agency (NIA) and Punjab Police continued on Monday also. On Monday, Punjab Police raided 48 locations of associates associated with Canada-based terrorist Lakhbir Singh Landa alias Landa Harike. Earlier, an extortion case related to Landa and his associates had come to light.
In Firozpur, two masked men opened fire on a businessman. On this the businessman said that he received a call from someone. The caller identified himself as Landa Harike and demanded Rs 15 lakh from him. SP Investigation Randhir Singh said that police teams raided Makhu, Jeera, Guruharsahay and other places. Some people were also arrested.
Recently, NIA had announced a reward of Rs 10 lakh each on terrorists hiding in Pakistan, Harvinder Singh Sidhu alias Rinda and Landa. Whereas a reward of Rs 5 lakh each was declared on Parminder Singh, Satnam Singh alias Satta and Yadvinder Singh alias Yada. All these Babbars are associated with Khalsa International.
Work on the instructions of ISI
It has become clear in the investigation of NIA that Harvinder Singh Rinda, hiding in Pakistan, and Lakhbir Singh Landa, hiding in Canada, have good relations with each other. Both work for Pakistan's intelligence agency ISI. The role of both of them was revealed in the incidents of murder of Hindu leader, smuggling of arms and drugs, extortion and extortion. Apart from this, Landa is funded by ISI to carry out criminal activities against Punjab. The role of both of them has also come to light in the attack on the intelligence headquarters of Punjab Police and Sahrali police station of Tarn Taran.