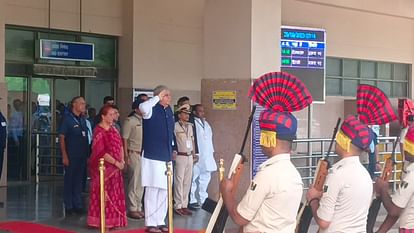 Vice President Jagdeep Dhankhar reached Gaya.
– Photo: Amar Ujala
Expansion
Vice President Jagdeep Dhankar reached Gaya, Bihar with his wife at 9.30 am on Friday. He was given a guard of honor at Gaya airport itself. On this occasion, many MPs of Bihar Government and District Magistrate Dr. Tyag Rajan were present. Everyone welcomed him by giving him a bouquet of flowers. After that, Vice President Jagdeep Dhankhade reached the courtyard of the famous Vishnupad temple of Gaya city to offer Pind Daan to his ancestors.
Pind Daan performed in Vishnupad temple
After reaching Gaya, Vice President of India Jagdeep Dhankhade went straight from the airport to Vishnupad Temple, where he offered Pind Daan to his ancestors and prayed for their salvation. During this period, the district police deployed a large number of police forces for the security of the Vice President. After performing Pind Daan, Vice President Jagdeep Dhankhade will go to Circuit House.
Today is the second day of the fair
The world famous Pitru Paksha fair has started in Gayaji from Thursday. On the first day, Pinddanis performed the ritual of tarpan in the Punpun river of Patna. Next day i.e. Friday, after taking bath in Falgundi, he went to Brahmakund and donated it to Pretashila. After that Pinddani went to Ramshila and performed Pindvedi. It is known that the 17 day long Pitru Paksha fair will end on 14th October.