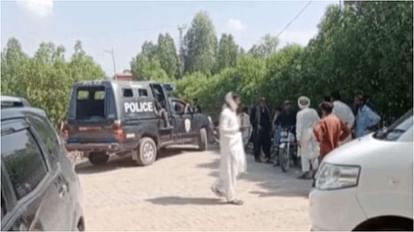 Picture of the blast site.
– Photo : social media
Expansion
At least eight people, including four children of a family, died when a rocket launcher shell exploded in a house in Pakistan's Sindh province on Wednesday.
Investigation into the case continues
Kashmore-Kandhakot Senior Superintendent of Police (SSP) Rohil Khosa said that the children were playing in the field when they found a rocket shell, which they took home as a toy. The children at home were playing with it when it burst. Eight people including four children, two women and a man of the family lost their lives in the blast. SSP said that on information the police reached the spot. Investigation is ongoing.
How did the rocket launcher reach the village?
According to the news, Sindh Chief Minister Justice Maqbool Bakar has sought a report on the matter from the provincial Inspector General. He said that the report should tell how a rocket launcher reached Jangi Subjwai Goth village of Kandhkot tehsil of Kashmore district of the province.
He has asked whether there was any cache of weapons being smuggled into the raw areas? Are there people supporting dacoits in Goth village? Expressing grief over the incident, Bakar has directed the Inspector General to submit a detailed report of the incident.