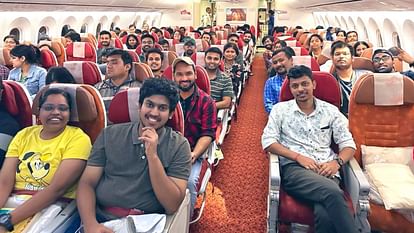 Operation Ajay.
– Photo : Twitter
Expansion
The first batch of Indians stranded in Israel has reached New Delhi by special flight. A total of 212 people, including women, elderly and children, have reached India in the first batch. People thanked the Indian government as soon as they reached Delhi. He says that we are now in our country, we are feeling very happy. Let us tell you, Hamas attacked Israel on Saturday morning, after which the war between the two countries is still going on. About 2500 people from both sides have died in the attack. Meanwhile, the Indian government has started Operation Ajay to bring back Indians stranded in Israel to India.
Before flying from Israel to India, this particular Indian student had said that I am going to India. I am very happy. Everything has become very scary here. We are going to go home. Thanks to the Indian government for getting us out safely. Apart from this, Harsh, who is studying electrical engineering at Tel Aviv University, said that now he is getting relief. We are happy that Modi government started Operation Ajay, through which we will be able to reach our homes. The government is helping. Parents were more worried because of the situation here. However, now he will be very happy to see me home.
The first batch will reach India on Friday morning
Indian Ambassador to Israel Sanjeev Singla said that the Indian Embassy in Israel is helping the Indians stranded here. The first batch of Indian passengers took off for India from Tel Aviv on Thursday. The first batch included 212 people. The Indian Embassy will help those who want to go to India. Registration for this has started from Thursday. A helpline has been set up for Indian citizens. In view of the conflict, a 24-hour control room was set up a day earlier.
These three reasons for the attack
Hamas said that this is revenge for Israel's desecration of the Al-Aqsa Mosque in Jerusalem. Hamas said that Israeli police had desecrated the Al-Aqsa Mosque by throwing a grenade at it in April 2023. The Israeli army is continuously attacking and encroaching on Hamas positions. Israeli army is attacking our women. Hamas spokesperson Ghazi Hamad has appealed to Arab countries to break all their relations with Israel. Hamad said that Israel can never be a good neighbor and a peaceful country.
Embassy contacts Indian companies and citizens
Rajeev Bodwade, Deputy Charge d'Affaires of the Indian Embassy in Tel Aviv and Commercial Representative Naveen Ramakrishna have contacted Indian companies in Israel and assured all possible help. Companies, Indians and students are being informed through email about available flights to return to the country. Air Force transport aircraft have been kept on standby to bring the Indians. If needed, the aircraft will be sent to Israel.