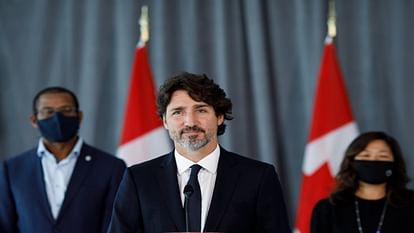 Canadian Prime Minister Justin Trudeau
– Photo: Facebook
Expansion
There has been conflict in the relations between India and Canada for the last few months. Tension has increased between the two countries over the death of Khalistani terrorist Nijjar. Canadian PM Justin Trudeau had made serious allegations against the Indian intelligence agency and said that it was involved in the murder of Nijjat. After which the tension increased to such an extent that both the countries took strict restrictive measures against each other. Amidst the tension, on the first day of Shardiya Navratri, Justin Trudeau wished people a happy Navratri.
Best wishes given through social media
Canadian Prime Minister Justin Trudeau posted on social media, "Happy Navratri! I send my warmest wishes to members of the Hindu community and all who celebrate this festival." It lasts for nine nights, first in the month of Chaitra (March/April), and again in the month of Ashwin (September–October).
Happy Navratri! I'm sending my warmest wishes to members of the Hindu community and all those who are celebrating this festival. https://t.co/ISCjvJqnKJ

— Justin Trudeau (@JustinTrudeau) October 15, 2023
Why is there tension between the two countries?
Tensions between the two countries increased after Trudeau publicly stated last month that Indian agents were involved in the killing of Khalistani terrorist Hardeep Singh Nijjar, who was shot dead by unidentified gunmen in a Vancouver suburb on June 18. India rejected the allegation as absurd and both countries expelled one diplomat each. India has also suspended new visas for Canadians.
Trudeau later said that he did not want to escalate the controversy. "We are taking this very seriously, but we will continue to engage responsibly and constructively with the Indian government," he said. The Canadian Prime Minister was extensively trolled for raising the issue of India with several global leaders recently after discussing India's relations with the King of Jordan and the President of the United Arab Emirates.