"If it's inflationary, you have more incentive to spend it. If it's deflationary you have more incentive to save it because in the future you may end up converting [your bitcoin] to fiat currencies when you need to spend."
Another crypto evangelist, Daniel Roberts, the co-founder of US-based and Nasdaq-listed bitcoin miner Iris Energy, said investors were kidding themselves if they believed cash was a safe or risk-free investment to hold.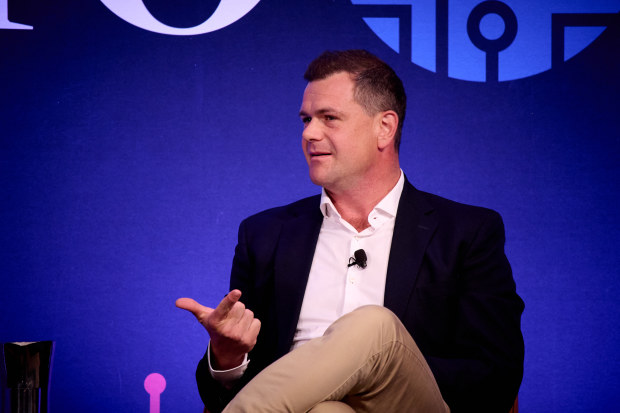 "Fiat currencies are programmed to be debased," he told the summit.
"Governments must keep printing now [due to fiscal imbalances and debt]if you've got an 8 or 9 per cent return on your capital [as a sharemarket or property investor] all you've done is preserve your wealth."
Mr Armstrong warned that emerging market currencies in Africa, the Asia Pacific and South America faced "long tails" of destruction due to reckless and corrupt governments.
"Bitcoin has an important role in feeding the moral imperative to replace the long tail of fiat currencies that are really abused the most in [emerging market] countries around the world," he said.
"A lot of those currencies eroded the wealth of the poorest people in society. And it's a real tragic story where governments have abused that and it's basically like theft."
Since its initial public offer at the peak of the cryptocurrency bubble in November 2021, Coinbase – as the largest crypto exchange in the US – has ridden a regulatory storm and crypto price rollercoaster, which saw it reach a valuation of more than $US100 billion at $US429.54 per share at the time of its float.
The stock has tumbled to $US73.43 per share since its float as the US Federal Reserve took interest rates on cash from 0.25 per cent in March 2022 to an upper bound of 5.5 per cent in July 2023.
Mr Armstrong said the revised policy settings in the US, among other strengths, meant he did not believe the US dollar was in danger of being displaced from its status as the world's reserve currency. However, bitcoin was acting as a "ballast against deficit spending" by the US government.
In the US Mr Armstrong faces an ongoing legal battle after the Securities and Exchange Commission alleged Coinbase violated securities laws by operating as an unregistered broker and clearing agency for cryptocurrencies.