Vadodara:
Navratri preparations are being finalized by sportspersons. As much as Chaniyacholi and jewelery are important in Navratri, makeup is also important. Of course, the final look is determined by the makeup. Soni Gosai, a makeup artist in the city, has shared tips on what kind of makeup will be in trend this year on Navratri and what should be taken care of to make the makeup last for a long time.
Glittery ice makeup will make a splash
Makeup artist Soni Gosai said that vintage fashion is in trend this year. Then the glitter design or tattoo craze is seen around the corner this year. While this year in hair style, the chotla of different styles will be in trend.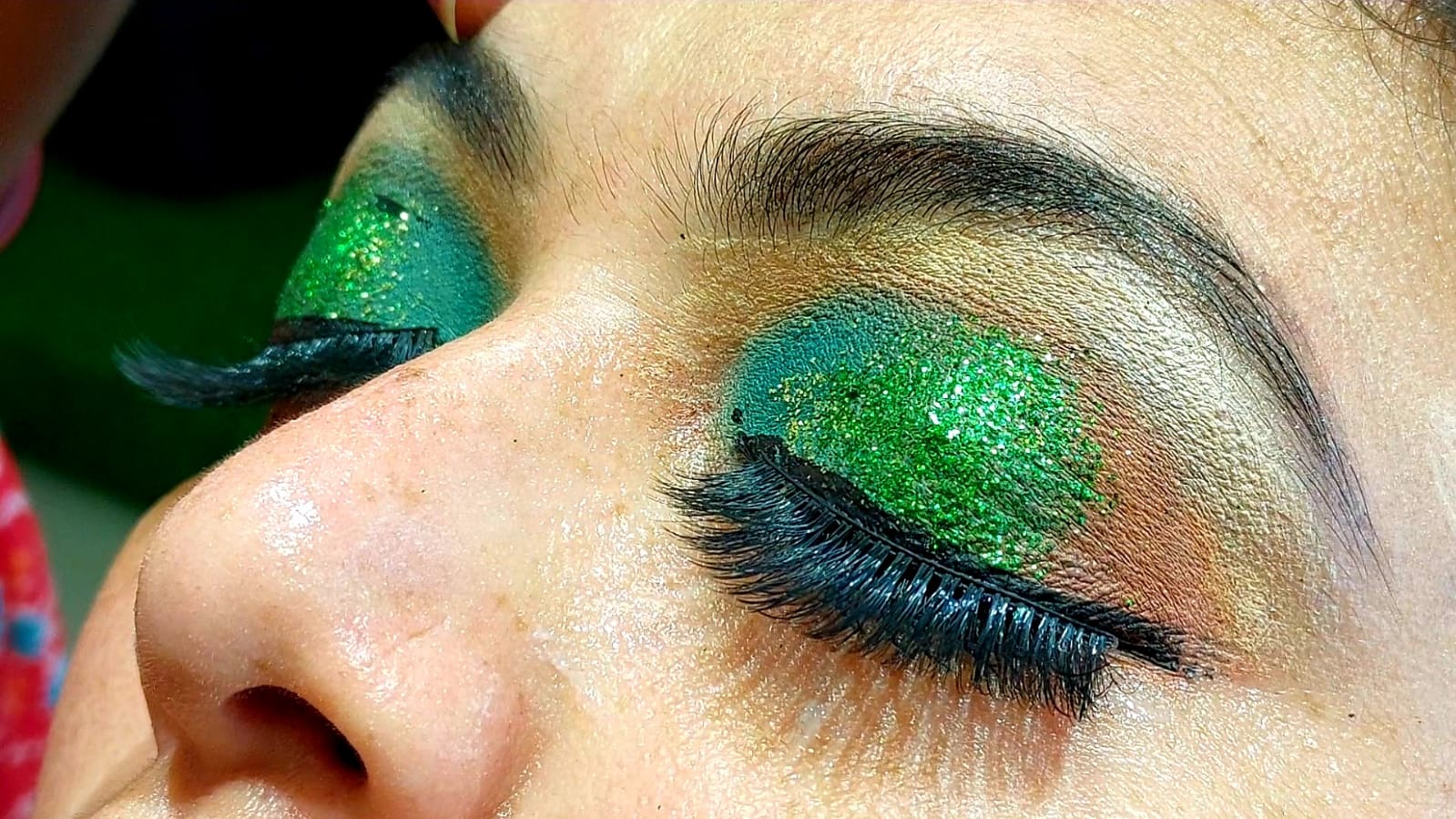 Vintage, golden – the trend of oxodize jewelry
Vintage golden-oxodise jewelery trend will be seen in Navratri this time. To complete it, the makeup also needs a mix of old and new makeup trends. Until last year there was a trend of smoky eyes. Then this year the trend of smudge liner has increased. In which eyeliner is drawn on the outer side of the whole and smudged with a brush, which gives a smoky effect. Called cat or smoke snatched wig liner. Prefer glossy lips over it. In earlier times, the traditional trend of black dots above the chin and below the bidi has grown again.
The trend of matching kajal eyeliner with jewellery
Currently there is a trend of matching kajal, eyeliner with jewellery. Like blue, green, brown, maroon kajal and neutral lips with eyeliner look very eye catching. Apart from that western look chaniyacholi work around the eyes gives a classic look.
What should be done to keep makeup long lasting?
Apply ice cube and cleansing milk on the face an hour before applying makeup. Then start the makeup with waterproof makeup products.
Use a concealer instead of a liquid foundation as a makeup base. Then apply eyeshadow, eyeliner and other products. This will keep the makeup for 5 to 7 hours.
There are concealer sticks available in the market for dark and fair skin, which will complete your makeup look.
Applying a good brand of cleanser, toner, moisturizer on the face before applying makeup will make the makeup last longer, even after removing the makeup, using these three items above will not harm the skin.
Before applying makeup, the face should be thoroughly washed and dried and a basic moisturizer should be applied. Apply a drying primer over it, apply a powder based foundation over it, apply eyeshadow, eyeliner and lipstick, then no sweat will happen.




Even if inflation increases, Navratri purchases will not decrease, see the enthusiasm of Vadodara residents





Garba, performed by child actors for children, has been the pride of the city for 27 years





This person is a doctor of instruments, prepares the instruments of big artists




Vadodara: One more nabira drives a luxury car under the influence of alcohol, causes an accident, one dies





The smell of flowers has disappeared in Vadodara, this is the reason





The situation of thousands of Gujaratis trapped in Israel is pitiful, terrorists are afraid




Navratri 2023: If Jojo Ho doesn't stay somewhere, 500 can be found here for just 250




What happened that a child could not hear the beat of a drum till the age of 6, know the reason




Hey Bap Ray.. In Vadodara, a car driver crushed a girl who was feeding biscuits to dogs!





The country's first street dog directory has been launched in this city of Gujarat, such information will be available





This is how Gujarat's biggest poverty started, the history is interesting
The treasure of Gujarati news is News18 Gujarati. Read more news including Gujarat, Foreign, Bollywood, Sports, Business, Entertainment on News18 Gujarati
Tags: Local 18, Navratri, Vadodara