News18 Gujarati |

September 21, 2023, 14:09 IST

| Ahmedabad [Ahmedabad]India |

Published by: Kaushal Pancholi
Gujarat weather forecast: Manorama Mohanty, director of Ahmedabad center, has predicted the weather of Gujarat for five days.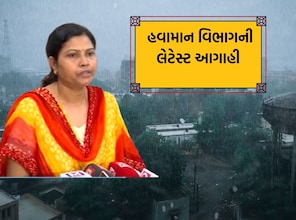 1/ 6
AHMEDABAD: After torrential rains at the beginning of Bhadrava in the state, the pace of Meghraja has again slowed down. Ahmedabad Meteorological Department has predicted rain for the next five days. The state is predicted to receive normal rainfall for the next five days.
Manorama Mohanty, director of the Ahmedabad center, has given a five-day forecast for Gujarat's weather. In which he has informed that there will be scattered rain in the state for five days. There may be light rain for four days. Chances of rain will increase from the fifth day. While there may be normal rain in South Gujarat.
He also informed that the possibility of rain will increase from the fifth day. However, rains are likely to increase in South Gujarat from the fifth day. While in North Gujarat, rain is likely to increase from the sixth-seventh day. Along with this, Saurashtra may also receive normal rain.
Manorama Mohanty said that a trough is also being developed. Because of this, there is a possibility of normal rains on the coast of Gujarat. With this, he said that the rains that have occurred in Gujarat so far. Twenty percent of it has rained more. Saurashtra has received the highest rainfall. Ahmedabad and Gandhinagar are still deficient in rain.
Along with this, he said about the possibility of temperature increase that there is humidity in the air at present due to which the temperature is not likely to increase. The current temperature is likely to remain the same.
It is to be noted that 93.44 percent of water has been collected in 207 important water projects of the state. In which 99.73 percent of the total water storage capacity has been stored in Sardar Sarovar Yojana, which is the lifeblood of the state. While there are 54 reservoirs which have more than 100 percent water storage. 90 reservoirs have 70 percent to 100 percent water storage, 29 reservoirs have 50 percent to 70 percent water storage, 23 reservoirs have 25 percent to 50 percent water storage, 10 reservoirs have less than 25 percent water storage. It includes 15 reservoirs in North Gujarat, 17 reservoirs in Central Gujarat, 13 in South Gujarat, 20 in Kutch and 141 in Saurashtra.