Banaskantha: Sometimes even the most ordinary and rustic person has amazing skills and powers hidden. A similar art is also hidden in Devjibhai Hengde of Phagani village in Banaskantha district on the India-Pakistan border.
Devjibhai's special art of commentary in different languages
Devjibhai Kalabhai Hengde of Fagani village is 58 years old. He is a farmer's son. Wearing a turban, dhoti and plain clothes, Devjibhai steps into the field to commentate on the world's most popular cricket match, leaving the audience stunned. He does commentary in Hindi, Gujarati and English languages.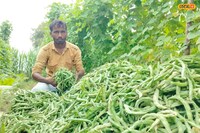 Just one and a half bigha of land and expenditure of only 25000, now this farmer earns income of lakhs.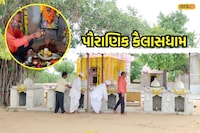 This holy land is 200 years old; Where the tombs of many saints are located, Adhi-Vyadhi-Upadhi removes the devotees
Cow-based Organic Farming: Cow-based organic farming has created a miracle, you will be surprised to know the farmer's earnings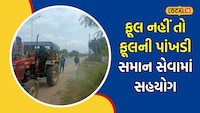 Stop talking…! Admirable performance of youth, devotees going to Ambaji on foot will not face any problem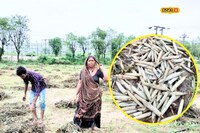 Megh Tandav ..The colic in the mouth of the farmers was taken away, huge damage in this area
Siddhi Vinayak Ganesha, the wish-fulfiller, is the idol of this temple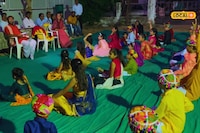 Irrigate the Sanskars in your children, this school gives knowledge of Indian culture for free
You will be shocked to hear the income of this rancher with just 4 animals
Karunamurthy Sama Kapiraj passed away, abstained from food and water for ten days.
10 Days Free Rickshaw Service in Ambaji on Bhadravi Poonam, Know How to Benefit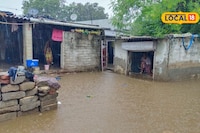 Due to the torrential rains, people's lives were disrupted, water filled houses in these areas
Ritchie considers Benod a guru
Devjibhai Hengde was very fond of cricket matches since childhood. Due to the situation at home, he could study only up to 7th standard. However, his passion for cricket was such that he constantly listened to match commentary on the radio, considering Australian cricketer and commentator Richard Benno as his guru. In the style of Richie Benod, he does a strong commentary in English.
Went to the village teacher to learn English
However, Devjibhai dropped out in the 7th standard as his family was involved in agriculture and animal husbandry. While farming he used to listen to commentary and other things on the radio. He also started learning commentary in Hindi and English through radio, initially he had a lot of trouble. They also went to the village teacher to learn some English words, after which they also read a book to learn English.
Also Read: Loss of lakhs in flower farming, farmers allege, could floods be man-made?
This is how Devjibhai became famous
After hearing Devjibhai Hegde's commentary, the people of the surrounding village used to take him to the local cricket tournament. In local cricket tournaments, he used to do commentary like Australian cricketer and commentator Richard Benno. Devjibhai Hegde became famous by mimicking Richard Benno's voice and Devjibhai Hegde started getting invitations from different local tournaments. He started going to different cities to deliver commentary. As Devjibhai grew older, Devjibhai's grip on commentary also got better. Devjibhai started commentating with a remuneration of 200 rupees and today Devjibhai gets 3,000 to 5,000 thousand rupees for a day's commentary. He has also won many awards.
Kapil Dev is also a fan of Devjibhai
Devjibhai Hegde On days when he is not invited to commentate for cricket, Devjibhai works in the fields with his two sons and wife as well as animal husbandry. Devjibhai's Devjibhai fans are all over the country. Devjibhai is called for commentary in different cities of the country like Ahmedabad, Vadodara, Surat, Rajkot, Mumbai, Hyderabad, Jaipur, Bangalore etc. Devjibhai Hegde also provides commentary in English in the style of Australian commentator Richard Benno. People become fans of cricketers as well as watching them give commentary in desi style. Kapil Dev is also a fan of Devjibhai.
Also Read: Ganesha Statue Made Of Unimaginable Material, 12 Feet Tall Statue Has Hatke Avatar
Even at the age of 58 can do 12 hours of commentary
Devjibhai, a native style commentator, has taught cricket commentary to more than 250 youth from Gujarat and outside Gujarat. About 250 youth trained under Devjibhai are also earning 500 to 1000 rupees per day by commentating in small and big tournaments. Now even at the age of 58, he can do commentary for 12 hours continuously. He has been honored with many awards.
The treasure of Gujarati news is News18 Gujarati. Read more news including Gujarat, Foreign, Bollywood, Sports, Business, Entertainment on News18 Gujarati