Local18 |

September 19, 2023, 13:30 IST

| Ahmedabad, India |

Published by: Santosh Kanojiya
Tattoo Lovers: In the age of fashion, young people are very fond of tattooing. But did you know that getting a tattoo can be extremely harmful for you.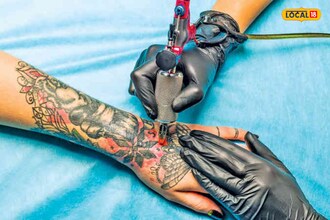 1/ 6
Simranjit Singh, Shahjahanpur: In this age of modernity, body tattooing has increased in vogue significantly. A different craze is being seen among the youth these days.
Be careful if you are also thinking of getting a tattoo on your body. Yes, a tattoo on your body can make you attractive, but it can also cause a lot of harm to your health.
To make themselves attractive, youngsters get various types of tattoo designs on their bodies. The trend of tattooing has been going on for some time now. But this tattoo can also be harmful to your health. Most of the youth get tattoos from any tattoo artist without thinking which is more harmful.
Dermatologist Dr. Ravi Mohan said that if the quality of ink used while tattooing is not good, it can be harmful. If the needle used for tattooing has been used before, you can become a victim of many diseases.
Dr. Ravi Mohan says that excess of anything is harmful. Getting a tattoo in such a situation and then removing it is very harmful. Dr. Ravimohan says that it also determines which part of the body you have tattooed and at what age you got it.
Also whether the ink and needles used in tattooing are manufactured by a certified company and whether the tattoo artist is trained or not. If you do not take care of all these things, you can become a victim of many serious diseases.